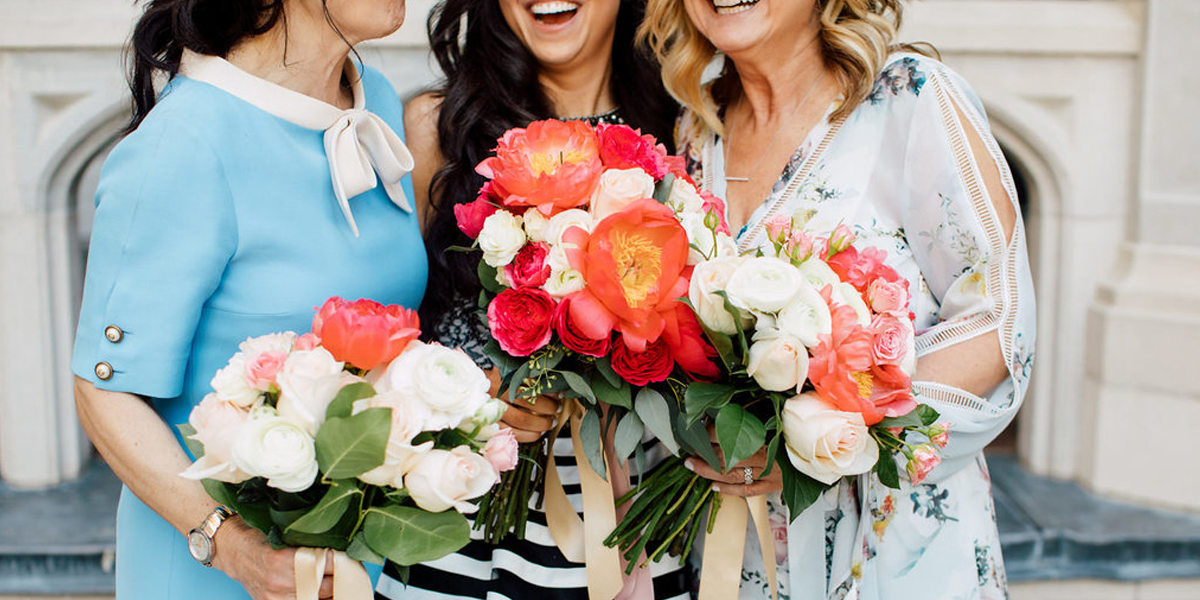 My husband and I worked with Have A Seat this past summer for our wedding at Eagles Nest. We met with so many decor and floral vendors before we met with Have A Seat and the moment we walked into their showroom we were blown away! Being able to see such a beautifully decorated showroom showcasing their work just sealed the deal for us and we wanted them to do our wedding. It was such a pleasure working with Mina. Mina always gave us her full attention when we went to the showroom and replied to any inquiries we had almost immediately. She also went above and beyond by personally delivering my bouquet to the hotel the day of the wedding and added a personal touch with a marriage pray card. We were also blown away when we had our first look of the venue when it was all set up. Our guests loved the decor and how it didn't overpower the beautiful venue. Thank you again Mina and team for doing such a beautiful job.
—Melissa K N
Enza & her team at Have a Seat provided the most beautiful decor for our wedding at Liuna Station in September 2017. Not only are her pieces unique and different then what you will find at any other decor vendor, the quality is amazing. The gold candelabras looks unbelievable in our vendor. Could not recommend enough.
—Sabrina
Have A Seat had a large part in making my wedding day a dream come true. Working with Mina primarily, she was with us every step of the way. She was honest and helpful and it felt like working with family. Mina was able to help us in every aspect and went above and beyond her duties in helping me with seating issues at the venue leading up to the big day. Not to mention how stunning every aspect of their decor is. I haven't stopped receiving compliments yet. Mina came herself to help set up and be able to wish me well on my day. Could not and did not have a smoother transaction with anyone else. Thank you so much Mina and the whole team!!
—Joanna G
OH MY GOD!!!! I cannot thank you enough for the absolutely spectacular job Have a Seat did on my daughters wedding this past Saturday. It exceeded my expectations which is really not any easy task lol!! When my husband and I got to the reception and saw how beautiful everything looked our jaws dropped!! Thank you to you all but especially Tammie for putting up with me during the bridal shower and the wedding process….you are amazing!! And Sylvia the flowers were a dream. Exactly what I pictured in my mind…the head table was out of this world. All our guests were amazed at how beautiful everything looked. Someone said to me they were expecting to see a unicorn just prance through the room because it looked so magical. As mother of the bride the stress of making everything perfect is overwhelming and it's hard giving up control to anyone because you don't think anyone is going to care as much as you do but I can honestly say the care and hard work you guys put into this it was like it was for a wedding of one of your own!! Thank you Thank you Thank you!!!!
—Mirella Ferrone
Everything was absolutely stunning. From the decor, linens, candles and flowers- everything came together so beautifully. As we walked into the room that evening, we were in absolute awe. Our vision came to life and we want to sincerely thank the Have a Seat Team. We are still receiving so many compliments about how beautiful the flowers and decor were on our wedding day. Truly- everything was so gorgeous and we were so happy.
Mina- I want to thank you for being so supportive during the entire planning process. You were extremely helpful and your attention to detail truly shines through. Thank you for everything- David, myself, my mom and mother in law were so happy with the presentation of everything. I am so grateful that I was able to work with you. I loved everything!!
Sylvia and Floral Team- I absolutely loved loved loved all of the flowers!!!!! They were over the top beautiful! Thank you for all of your hard-work. We truly appreciate everything and loved how everything looked!
—Alexandra Procopio
Have a Seat did such a breathtaking job for my wedding. Their professionalism made them a pleasure to work with and their trust just took all the stress off the wedding day! I am so pleased to have done both flowers and decor with them and I would recommend them t anyone!
—Diana Di Zazzo
Thank you so much for making our wedding day look like something out of a fairy-tale. You are all magnificently talented. From the bottom of my heart, I cannot thank you enough!!!! Everything was beyond stunning and I am still in awe. My guests are still sending me messages to tell me how gorgeous the room looked. I can't help but constantly look back at the videos and photos of the decor, to relive the most special day.
From conception to execution of both my bridal shower and wedding, Have a Seat was an absolute pleasure to work with. Anna made the process so easy and stress-free. I am so incredibly happy with the outcome. I HIGHLY recommend Have a Seat to all brides! I promise, you will not be disappointed.
—Adele Di Paola
Anna and the Have A Seat team are truly masters of their craft – they turned our idea of an enchanted forest, into a visual reality! They worked tirelessly to ensure that no detail was overlooked, and went above and beyond what we knew they were already capable of creating! Our decision to use Have A Seat for florals, draping and decor, was an easy one, as it not only reduced the number of vendors we had to coordinate with, but everything in the room tied together beautifully! We truly couldn't have imagined our wedding day without this incredible team!
—Kayla Favot
The best decision we made!! My wife and I were just married on 27 April 2018. We were thinking of doing our own decor, but then we found Have A Seat, and oh man what a great decision to go with them. We had a particular way we wanted the centrepieces to look – trees of silver with leaves of gold. We spoke with Anna and told her we wanted a Beauty and the Beast-like unique experience – we wanted our guests to have this feeling when the entered the hall. This is exactly what we got! Anna was so helpful and accommodating, she took care of all our needs. We had only to tell her our vision and she helped us realise it!! My wife and I definitely recommend Have A Seat for your wedding or any event you are having. The staff are really knowledgable and very helpful. They will make sure you get what you want. You have only to tell them what you want. For example for our ceremony, Anna knew exactly how to set it up for us, and what we needed to make it look great. And during sunset the decor we had for the ceremony was truly enchanting!! Anna guided us through the whole process from the way the napkins were to be kept, to charger plates, to the overall effect of the decor. Truly an amazing experience and we definitely recommend for everybody.
—Hamza Ansari
Enza and her team are the best. They did the decor for both my daughters weddings and they did a wonderful job. Their attention to detail is impeccable , I can't say enough to describe this company.
Highly recommend them for any decor need.
Thanks again for everything !!
—Carla Italiano
Have A Seat Decor was amazing! Their showroom was beautiful and gave me ideas for my wedding. They showed me so many options within my color scheme – table linens, napkins, charger plates, candle holders, etc. It was wonderful! And when it came to the flowers, the team helped me narrow down what I wanted and stayed within my budget.
I had my wedding at Eagles Nest Golf Club , and they have done countless events there. So when my wedding day came , they took care of everything ! – setting up and taking it all down. My wedding day was beautiful!!
I would use Have A Seat again for another event , and recommend them to anyone who asks.
Thanks Have A Seat
—Cynthia A
Thank you to Mina and Enza and everyone from Have A Seat Décor for making our wedding day truly magical. No words can ever express how grateful we are for the care and attention you took on one of the most important days of our life.
Booking with Have A Seat was the best decision we made for our wedding. From the moment we went in for our initial meeting we knew that we could give them our complete trust and that we would not be disappointed. They went over and above for our wedding, not a detail was missed! They took our vision and helped us to create our fairytale wedding that we had always dreamed about. Our décor was so romantic, classy, elegant and enchanting. It was absolutely perfect!!!
Have A Seat truly did an outstanding job. We highly recommend them! They did everything and more to make sure everything was perfect for our special day. The moment we walked into our hall was a moment we will never forget… it truly took our breath away and brought tears of joy.
Thank you to Have A Seat we are forever grateful for your amazing work!!!
—andrew nicolosi
I have used Have A Seat for 5 of my functions including my wedding, my bridal shower and 3 baptisms and have had nothing but amazing service!! The staff is so creative and helped not only choose items but complete the overall theme of my events. I have enjoyed working with them every time and am so excited from the minute I walk in the showroom to get started on planning my parties!! They have made the vision come to life every single time and I would never consider going any where else! You can rest easy knowing you will show up to your special day and it will look like perfection!!
Thank you ladies for never disappointing!!!
—Katherine Neilas
The staff at Have A Seat are outstanding! If you want your next event to be perfection and be blown away then you have come to the right place! Have A Seat has provided decor and floral for many of my functions, including my recent bridal shower and wedding. I left it in their capable hands and I was speechless! They never disappoint and go every step of the way to make your day special! I highly recommend Have A Seat!
—Adelina Micoli
Mina and the staff along with the floral team ( I forget her name but she's absolutely amazing) were seriously what made our wedding. They went above and beyond to meet our vision and our budget and the execution on the day of was above and beyond our wildest dreams. They coordinate with the hall so you have nothing to worry about except enjoying your day. Could not thank them more for such a wonderful experience, this is a must use place for decor and floral. Thank you everyone at have a seat!
—Jen Marie
Have a Seat Decor was absolutely amazing! They were easy to work with and extremely knowledgeable, organized, and trendy! We worked specifically with Tammie, who was a delight. I had full confidence in her ability and she made the decorating process so easy. I did not have to worry about a single thing with any of the decor. Would highly recommend them!
—Melissa Calabria
Tammie and team from Have A Seat did all of our decor and florals for our wedding at the OMNI King Edward Hotel. The team was so great to work with! They were not just welcoming and helpful, but so creative! Between the selection and planning process to the day of execution – it was all perfect! Our guests literally walked into the ballroom saying. "Wow". The florals weren't just beautiful, but so unique that people couldn't wait to take them home! Thank you Tammie for making our dream a reality. Highly recommend working with this team!
—Daniel Gotlib
The Have a Seat team was exceptional throughout my whole planning process. Not only did they make my vision come to life, but they were very accommodating and made my experience with them one I will remember. I would recommend them to anyone planning a wedding or event – they're work exceeded my expectations. Thank you Tammie, Donna, and team for your amazing services!
—Samantha DeBellis
I had the pleasure of working with Tammie from Have a Seat for my wedding in May 2017. She was amazing from start to finish and kept up with all my changes (even the week of the wedding!) She took the time to understand exactly what I wanted and truly made my 'rose gold' vision come to life. When we walked into our venue on the day of wedding I was overwhelmed with how beautiful and perfect everything had turned out. I can't thank Tammie and the team at Have a Seat enough for everything they did to make our day perfect.
—Marie Pinto
I got married July 22 2017. Have a seat was so fantastic. They are so professional and creative. Every member of their staff takes pride in their work. They are a great company to work with! My wedding decor was so beautiful and my flowers were elegant.
Thanks you!!
—cassandra P
Everything your team did exceeded our expectations beyond compare. The set up and tear down was exceptionally well organized. The florals were absolutely stunning and I could not have envisioned a more perfect place setting. You are truly artists and beautiful ladies (inside and out).
—Amanda Acchione
If your looking for great quality , great service and an event you will never forget then Have a Seat is the place to go. Their service and quality is like no other. Special thanks to Enza and her team for all that they did to make our Wedding beautiful.
—Lena Salluce
Wonderful experience with the service from all the staff …loved them all!! Set up and tear down was flawless and quality and beauty of the draping and table covers are unparalleled in this city. Could not have been happier.
—Gary Lahey
It is with utmost appreciation and respect that we THANK YOU for helping to create an unforgettable Bridal Shower. I can't express the overwhelming feeling that came on the moment I stepped into the hall on Sunday, April 2nd, 2017. Everything became surreal. The pink linens, white floral overlays, and pink napkins were EXACTLY what I had imagined. They matched the overall "whimsical" theme, perfectly! Everyone loved it! We appreciate everything you all do for us. Thank you! We look forward to the Wedding!
—Paolo & Louisa D
We were just there and dealt with Tammie, she's a professional and definitely knows her stuff. She is SO GOOD. You tell her what you want and she will show it to you. With our wedding around the corner and so much stress she has already taken so much of that stress of my back. I know she will make it all happen. If you are looking for professional decor specialists and up to date decor, this is your to go to place.
—Sanaz B
We got married on Saturday and Have a seat worked well with my coordinator and florist. They were professional and called to double check way in advance to ensure that there were no last minute surprises! Thank you ladies!
—Lena Pignatelli